PATIENT CARE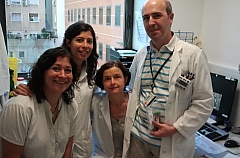 ABOUT

ABOUT
The instructions by the Department of Health of the Autonomous Government of Catalonia establishes that patients with liver cancer diagnosed in the area of Barcelona under the control of the Hospital Clínic as well as those diagnosed in Vic and in the Vallès Oriental are referred to the BCLC. Patients from other areas in Catalonia or from the rest of Spain can also be referred if fulfilling the administrative process or through the "
Second Opinion Option
" that has been implemented for this purpose at the Customer Service Unit in every hospital. Follow the next link to know how to deal with it: 
http://cancer.gencat.cat/ca/ciutadans/segona-opinio/

Patients access and Outpatient Clinic
For new patients appointments
Antonia Murcia (assistant)
T. +34 93 227 54 00 ext. 5561
For BCLC patients in follow-up
Neus Llarch (Liver cancer nurse)
T. +34 93 227 54 00 ext. 2017
E.
oncohepatica-bclc@clinic.cat